Sunny work day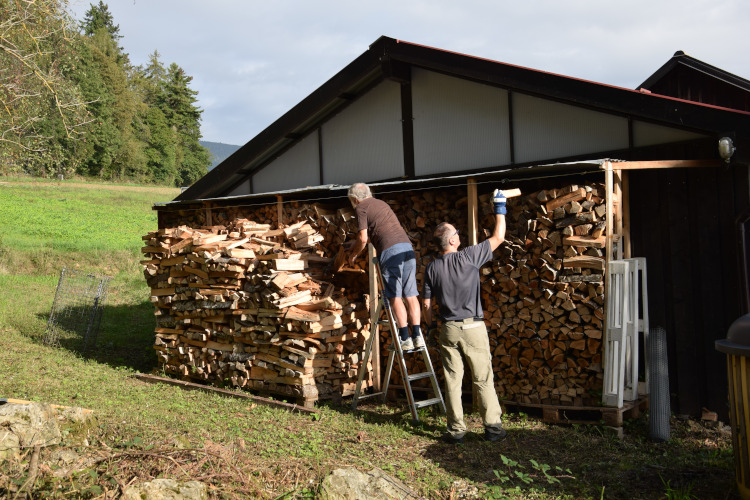 As it does every autumn, Le Camp was able to count on motivated volunteers for its autumn work day.
The Camp Foundation held its traditional autumn work day on Saturday 30 September.
Some fifteen loyal and motivated volunteers lent a helping hand to our works committee.
Under a radiant sun and in a friendly atmosphere, they worked on various tasks on the Camp grounds!
In particular, all the benches were sanded and repainted, as were the picnic tables and our bike storage area.
Landscaping work has also been carried out, including tree pruning, cleaning fireplaces and grounds, and building a low wall around Maison 5.
In preparation for winter, firewood was stored and put away.
The day was punctuated by moments of sharing between participants, and meals and snacks were even served on the terrace.
A big THANK YOU to all the volunteers for their commitment and their participation in the life of the Camp!
Hunting meal - 5th edition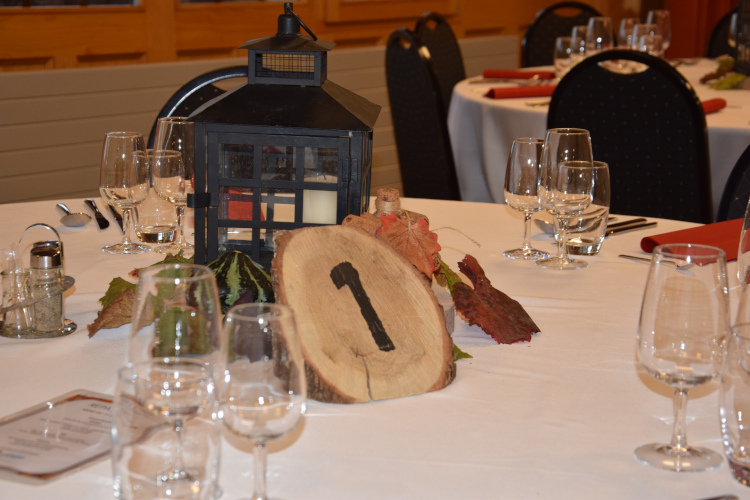 The flavours of autumn are back on 30 September 2023 at La Fondation Le Camp.
For the 5th year running, our Head Chef and his team will be delighting you with their hunting specialities.
From amuse-bouche to dessert, the menu will be in the colours of autumn.
From 5.30pm onwards, come and taste some regional wines, before sitting down to dinner at around 7pm.
A range of autumnal flavours will then be served to you at the table. On the menu:
Amuse-bouche
Starters
Chanterelle ravioli and cream sauce
***
Pressed rabbit with oranges
Autumn salad
Main course
Rack of venison with cranberry sauce
Homemade spätzli with hunting accompaniments
Desserts
Squash and chestnut cake with citrus mousse
Red berry salad
Price: CHF 75.00 - mineral water and coffee included
Don't wait any longer and register now by email at This email address is being protected from spambots. You need JavaScript enabled to view it. or by telephone on 032 836 26 36.
Registration deadline: Sunday 24 September 2023. Don't forget to let us know how many people you would like to register.
We look forward to welcoming you to our hunting dinner and to sharing the evening with you!
Fundraising meal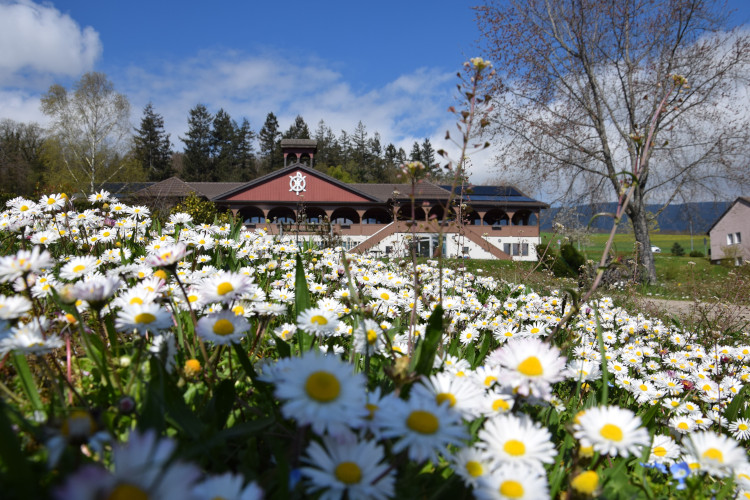 On 3 November 2023, the Camp Foundation is organising a fund-raising meal to help finance our future projects.
Come and spend a pleasant evening at the Camp in Vaumarcus by taking part in our 1st support meal, and contribute to the realisation of our future projects. The evening will be entertained by the Vufflens Jazz Band.
Price* :
Adults: CHF 130.00
4 - 15 years old: CHF 90.00
Table of 10 people: CHF 1,170.00
* Minerals and coffee included
MENÜ
Amuse- bouches
Carpaccio von Lachs, Limette und Basilikum
Rucola und Parmesan, mediterrane Vinaigrette
Schweinefilet Mignon, Morchelsauce
Provenzalische Gemüsepfanne
Kartoffelgratin
Verrinen-Trio
Proceeds from the evening will go towards renovating our house, L'Orée, and building a new pavilion, La Mairie. This work is part of our project "Saving our heritage - satisfying our guests".
Registration by phone or email until 25 October 2023
The new "Lovers' Corner"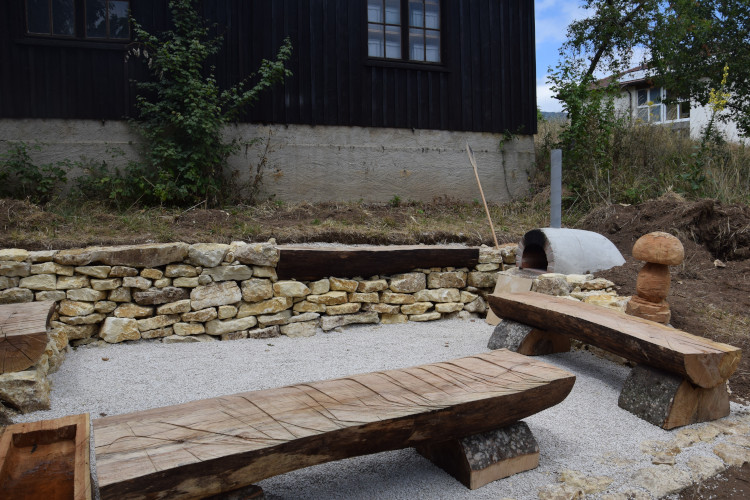 A new look and a new space
Those who are attached to the Camp know it well: the "Lovers' Corner"! A small secluded area, a table and benches sheltered by a hill, the perfect spot for a picnic.
Unfortunately, this peaceful spot will have to give way to this new building as part of the futur projects.
A little saddened by this future disappearance, we have decided to move this spot. To do this, we worked with our hosts, the apprentice landscape gardeners from the Wetzikon professional school, who were staying with us in June.
The apprentices worked on several practical projects, both at the Camp and outside, during their end-of-year week.
The new Lovers' Corner has been created under the Old Laundries, with a small terrace surrounded by a dry stone wall and forest benches. A pizza oven has also been installed to enhance our offer.
We would like to thank the Wetzikon vocational school once again for this wonderful achievement.
New totems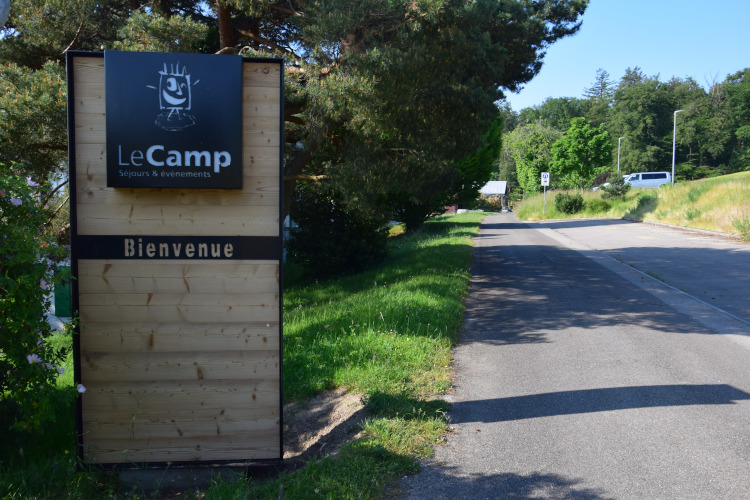 Welcoming and orienting our guests thanks to the installation of totems and a new orientation map
Until this year, the Fondation le Camp did not have any welcome signs or a clear orientation plan for its guests.
A project had been in the pipeline for some time and was finally completed in May.
Three wooden and metal totems have been installed at various strategic points:
Two of them welcome our guests at the ends of the Camp: the first is on the left of the road coming from Vaumarcus, near the car park, and the second is below La Seyte, welcoming our customers arriving from the post bus stop.
The third totem pole is located between the main building and the Ancienne Poste. As well as greeting customers arriving from the car park, this totem also directs guests by displaying a map showing their location, the various buildings and the access routes they can take.
These new reception and information points add value to our customer service and should enhance the experience of our guests at the Camp!