Photoshooting Inspiration Wedding at Le Camp Foundation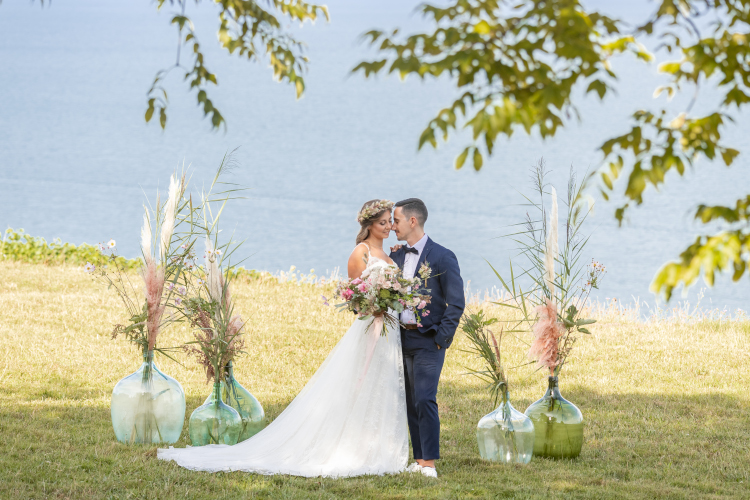 On 22 August 2020, Le Camp Foundation was delighted to welcome its first "photoshooting - wedding inspiration" in the company of its favourite wedding providers.
On this wonderful day, many of the region's wedding providers, who usually collaborate with the Le Camp Foundation, got together to give free rein to their talent:

After a successful beauty makeover by Timotée in the Zwingli house and after putting on the magnificent dress of Douce Apparence and the splendid jewellery of Colayco, the bride and groom were photographed from all angles by our talented photographer, Raphaël. Whether near the main building, on the green amphitheatre, in the Rotunda or in the middle of the vineyards, our bride and groom found themselves in the midst of the magnificent decorations created by Mademoiselle C and Histoire de Fleurs especially for the occasion. They even had the chance to taste the wonderful wedding cake made by Confiserie Schmid.
The photos were recently sent to us and the Fondation Le Camp is delighted to share the result, which can be viewed on our instagram account or our facebook page.
Change of Presidency at the Foundation Le Camp
After forty years of service on the Board of the Foundation le Camp - 26 of which as President - Mr. Pierre-André Lautenschlager, from Prêles, handed over his mandate to Mr. Philippe André, from Yens, on the occasion of the General Assembly held on Saturday 22nd August last.
During his forty years of commitment, Mr. Lautenschlager has given the meeting, training and holiday centre overlooking Lake Neuchâtel its current face as well as an organisation that enables it to look to the future with serenity, at the service of its guests and supported by a team of competent and motivated staff.
An architect by profession, Mr Philippe André took a leading role in the infratstructural transformations. Determined to continue in the footsteps of his predecessor, the new president is already conducting studies for the refurbishment of a dormitory building to make it a modern reception area, suitable for groups of up to 25 participants.
A party for former board members, staff, friends and relatives followed the formal deliberations, allowing a convivial farewell to the outgoing president and three other board members.
Hunting and wine tasting evening 2020
Following the success of its first edition "Hunting and Wine Tasting Evening", Fondation Le Camp is pleased to invite you to the 2020 edition of this highly appreciated event, which will take place on October 3rd.
During a gourmet evening, come and take part in the wine tasting of one of our partner winemakers and test our second edition of the Hunting Dinner, which showcases the flavours of autumn.
Our chef, Mr. Thierry Loubet, has revisited his Chasse menu for your greatest pleasure; this year he offers a piece of venison and innovates with a gingerbread tiramisu...
To your agendas!
October 03, 2020, Fondation Le Camp à Vaumarcus, Main building, second floor.
18h00-19h30: Wine tasting
19h30-22h30: Hunting Meal
Menu
Amuse-bouche
***
Cream of pumpkin soup and its cream
Homemade game pâté with hazelnut and pistachio flavor
Berudge jelly
Autumn Salad
***
Entrecote of venison in "Grand-veneur" sauce
Homemade spätzli, cranberry fruit, Brussels sprouts and marrons glacés
***
Vermicelli
Crème brûlée with squash
Tiramisu with gingerbread
***
CHF 72.00 (minerals and coffee included)
The event will take place on the second floor of the main building, and will be adapted to Covid standards:
A disinfectant is available at the entrance of the rooms.
Groups will not be mixed: you will be placed at the same table as the people you register.
The tables will be spaced apart to respect the distance of 1m50.
Registration This email address is being protected from spambots. You need JavaScript enabled to view it.or on 032 836 26 36 : until September 27th, 2020.
Volunteers recruited for the "Autumn Helping Day"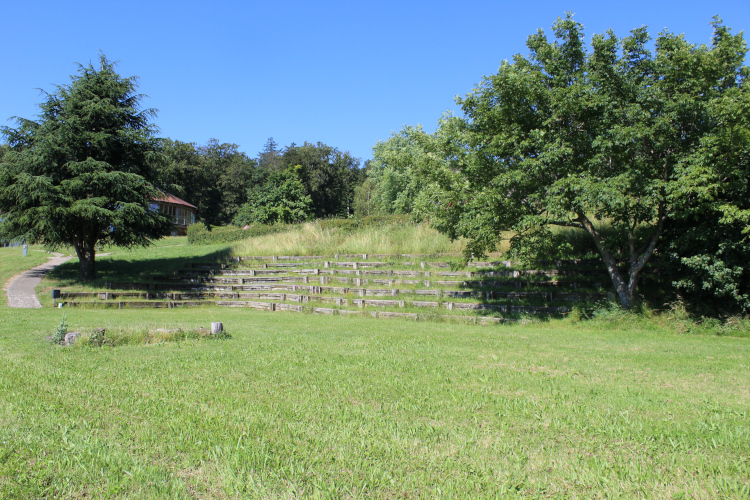 On 12 September 2020, the "Coup de Pouce d'automne" day will take place at the Camp and on this occasion, volunteers are sought.
Every year, the Fondation Le Camp is happy to welcome its "handymen Friends" for a friendly day, during which they roll up their sleeves to give the Camp an extra boost while enjoying being in good company.
Fondation Le Camp invites all those who wish to participate in this day to register by sending a short email This email address is being protected from spambots. You need JavaScript enabled to view it. and thanks them already for their commitment.
The programme for this day is as follows:
Joy of reunion
Maintenance of green spaces
Treatment of the new green theatre beams
Installation of the new picnic tables
Painting
Meals and snacks
Good mood guaranteed
On site, you will find disinfectant gel throughout the Camp and masks will be available for those who wish to use them or if distances cannot be respected during certain work. Arrangements will also be made for meals.
The appointment is set for 9:00 am on September 12, 2020.